What Our Staff Say
Working at Bistro Live
View from the 'front line' (Party Hosts) 
Dom - Senior Staff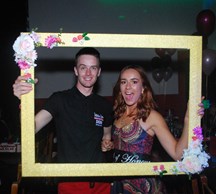 Hi I'm Dom! I started at Bistro Live in May 2017 and in February I was promoted to a Senior member of Staff! I have made lots of new friends whilst working here and made so many amazing memories.
My favourite part of the job is that every night at Bistro Live is different and I get to meet lots of different people all out to have fun! I'm hoping to progress my career in hospitality further and I'm really looking forward to learning more and more!
A little something about me; I also run a record label and produce musicians.
Jake – Senior Staff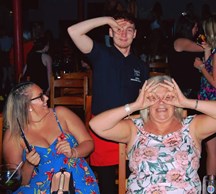 Hi I'm Jake, I have worked at Bistro Live since June 2015 and became a Senior Member of staff in October 2016. I can honestly say I have loved every single minute! As a first job it is perfect to build my confidence and expand my skillset whilst having fun at the same time!
The best part of the job is definitely being able to interact with loads of different people – customers and staff included! Bistro Live is one big family. I have made some incredible friends here, we're always looking to do something as a group whether it be a night out, a trip to the park or forming a 5-a-side football team.
Ben - Party Host
Hi I'm Ben. I started at Bistro Live in November 2012 and have worked here ever since! No job I've had in the past has been as fun and enjoyable at Bistro Live and I really get a kick out of making sure our customers have the best night possible!
I've done many weird and wonderful things since starting at Bistro Live whether it's dressing up as an Elf at Christmas to giving a bride-to-be a piggy back round the room on her hen do but I love every minute.
The best part of my time at Bistro so far has been my promotion to senior staff in March. Its something I worked really hard at and it meant a lot to know my hard work was appreciated by the management team.
As much as I love interacting with the customers here it's the rest of the team that really make this job worth it. My promotion to senior staff has also allowed me to interact with the new starters and take them under my wing a bit more which feels fantastic when I see how well they're doing. I've made some amazing friends since starting here, we've had some great nights out plus even a cheeky lads holiday.
I've decided that hospitality is definitely the career for me and Bistro is fully supporting me with this, even putting me up for college courses to help learn new skills.
Melissa - Party Host
Hi I'm Melissa, I started working at Bistro Live back in November 2015, and even though I left for a short period it wasn't long before I missed it too much and was begging to be back! No job I've had before can compare to the fun I've had working at Bistro Live over the last 3 years.
During my time at Bistro Live I've learnt so many new skills and had gained so much experience, no two nights are ever the same! One night you're dressed up as French lady and the next you're doing the can-can in a big circle to Come On Eileen. Working at Bistro Live is so different to any other restaurant job, there's so much fun and interaction with the customers and you really get a chance to perfect your bad dancing!
I feel like I've grown up at Bistro Live. Working here really is like having a little family and a home away from home, and who doesn't want that?!
View from 'behind the scenes' (Bar)
Robyn - Bar Staff
Hi, my name is Robyn. I have worked behind the bar at Bistro Live for nearly 4 years.

A day in the bar comprises setting up in the day time and then running the night shift. In the day I have to ensure that the bar is fully prepared for the night shift to run as smoothly as possible. This means ensuring that all necessary stock is in the bar, all cocktails are prepared and everything I am going to need for the night is in the bar ready for me to use.

The night shift is completely different. The atmosphere is a lot busier and lively. At 7.15pm the customers begin to arrive and this is when the drinks orders start rolling in. My main role is to manage the bar by ensuring that all drinks are made and have left the bar as quickly as possible and I do my best to keep energy levels up amongst the staff by keeping them motivated so this is transferred to the customers.

My favourite part of working in the bar is the relationships that I can make with the staff - getting to know them and really making the effort to make them feel like part of the team - especially if they're new.
Amy - Senior Staff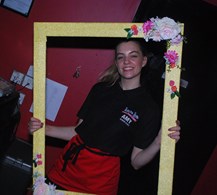 Hi I'm Amy! I started working at Bistro Live in April 2016 whilst at University! Since working here I have learnt loads of new skills and even been promoted to a Senior member of Staff!
At present I work in both the restaurant and Bar and love it! I'm currently studying a masters in speech and language therapy and working at Bistro Live is a perfect fit for me. I love being able to come to work and have fun whilst working hard. I've made loads of new friends here and we all regularly meet up before, after and outside of work.
Nat - Bar Staff
Hey, my name is Nat. I have worked at Bistro Live for over five years, including working on the bar for the last 3 years. I have to make sure that the bar is in tip-top shape, making sure that the bar is ready for the evening shift with all the stock ready and the fruit chopped.
At the night time, the hard work starts, as it can get super-busy and lively. Starting at 7pm, we start getting all the drinks orders in from the partying customers. I have to make sure that the drinks are made accurately and quickly, to make sure that the party can continue without any hiccups. It can be a bit hectic, so I have to make sure I stay calm and energetic, so that the rest of the staff stay the same.
I love working in the bar, as you always have something to do, and you get to help the rest of the staff out with their shift, too.
View from the 'Engine Room' (Kitchen)
Charley - Commis Chef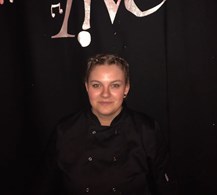 Hi I'm Charley! I have been working at Bistro Live since 2017 as a Commis Chef! I love working here and constantly learning new things!
I am currently studying my Catering NVQ Level 3 and hoping to progress my career in catering! Since working at Bistro Live I have got to know the entire team and love that I get to interact with all of the staff in the restaurant and that we are all one big team!
In my spare time I like to cook obviously and I have a huge passion for Motorcycles!
Michelle - Commis Chef
My name is Michelle. I have been working at Bistro Live as a Commis Chef for 2 years.
I enjoy working in the kitchen because it's a fast paced environment and we make great food.
There's always something to do and I'm constantly learning new skills!
Aaron - Chef
My Name is Aaron and I've been working as a chef at Bistro Live for 4 years now.
I've enjoyed every minute of it: the food is great; the staff are great both in the kitchen and front of house; and although I don't really get to see the customers I know they really enjoy the food that we prepare and cook for them.
Outside of work I like going out and enjoying myself (partying) so working at Bistro Live where after all the food is served it turns into a big party, I get to enjoy my two loves of cooking and partying.