Leicester Christmas Parties 2019
Have You Started Thinking About Your Christmas Party Yet?

Never Been to Bistro Live Leicester Before?
 


Well, you're in for a treat! If you fancy a night out with friends, family or work colleagues, then Bistro Live Leicester is perfect for your Christmas party. 2019 promises to be our best year for festive celebrations, with a fantastic choice of Christmas themed DJ party nights and live band entertainment nights. Plus we've recently had a refurbishment, with dazzling new state of the art lighting, a new stage, new air con and even new toilets! Put simply, we are the best live music restaurant in Leicester, with great food, brilliant entertainment and the best party atmosphere in town. Click here to make an enquiry, give us a ring on 0116 262 12 12 or get your copy of our 2019 Christmas brochure today.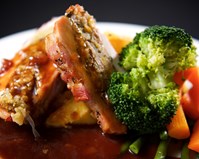 Great Food...
…You'll be spoilt for choice as we don't limit you to just a couple of starters and main course options, but offer five dishes for each course, with plenty of vegetarian options too! Your meal will then be completed with our popular trio of festive desserts.
Our vibrant, mouth-watering menu is bursting with flavours AND here's the best bit; it's freshly prepared and cooked to order on the night – so you don't have to worry about ordering what everyone wants beforehand…Phew!
Got a dietary requirement? Just give our Leicester party planner a ring on 0116 262 12 12 to let us know and we'll tailor a meal to suit your needs.
 "The food was great for every course, nachos on the table as well as 3 courses, good choices and more than enough on the plate."    Avril S - December 2018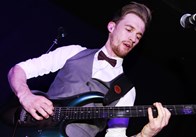 Great Entertainment...
Whether you choose to come along on one of our live band nights or one of our popular disco party nights, there's a lively party atmosphere guaranteed! Our DJ will keep you on your feet until late with all the biggest party tunes and festive hits.
  "Entertainment was really good as well with a band and DJ playing a good mix of music. It was so good we are already planning to go again next year!"  Lisajn2016 (Tripadvisor) - December 2018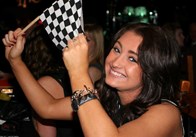 A Great Christmas Party!
Probably the best in town! Want a drink? Just wave your flag! You'll receive full table service all night, where we'll bring your food and drinks to you – so no need to stand and queue at the bar and miss out on the party. We'll do all the hard work.
  "Everything was very well organised from booking right through to leaving the venue...or perhaps more like staggering from it. The staff were all lovely and very helpful. The food was fabulous and delivered to all our party with no delays. The drinks came quickly. The music was great...just a pity about our dancing. Thank you to Kelly and the team..." TatNev  - December 2018
Your Night Timings
7:00 pm   Doors open, take your seats for pre Christmas dinner drinks
8:00 pm   Your festive 3 course dinner is served
9:15 pm   Live Band Night (only) – First performance from your band: 'Laid back' dinner set
10:00 pm  Are you celebrating anything? Make sure you let us know about any birthdays etc when booking…
10:30 pm  Party time! With all the big hits, old and new - plus plenty of Christmas tunes!
Live Band Night – Second performance from your band: 'party set' guaranteed to get you on your feet
Themed DJ Party Night – Our resident DJ will take you through to the early hours! Got a request? Just let our DJ know! Take a look at our new themed nights here!
1:00 am  Last orders – but we're open all year round, so come back soon! (12:30 am Sunday – Wednesday nights)
Organising Made Easy!
Being the Christmas party organiser can be a stressful responsibility; finding the right venue - collecting payments, food choices, dietary requirements - the list goes on. With Bistro Live it's really simple;
Choose your date and book your party.
Either:-
Call our Leicester Christmas party organiser on 0116 262 12 12
Email info@bistrolive.com
Online www.bistrolive.com
Then...
Add on some drinks (strongly recommended). Take a look at our drinks deals here.
Choose how you would like to pay:
Secure your places with a £10.00 deposit per person (we take most debit and credit cards)
OR
Pay for your place and we will send you a sharable payment link by email
You can then send the link to your friends or colleagues so they can pay for their own place (why not use Facebook, WhatsApp or your work email)
You will get an email every time someone pays so you can keep track of it all – easy.
And Remember… YOU CHOOSE YOUR FOOD ON THE NIGHT – NO FUSS!
Looking for an open bar this Christmas? Our tab system allows you to set a limit for your party, arrange drinks tokens or just pay for your own drinks at the end of the night.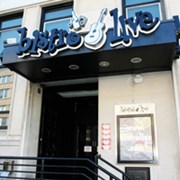 We are in the heart of Leicester City Centre on Charles Street opposite the Rutland Centre NCP car park. You'll find the most popular party venue in Leicester a 10 minute walk from the train station and across the road from the town's popular Cultural Quarter.
89-91 Charles Street
Leicester
LE1 1FA
0116 262 12 12